Early years of Méthode Naturelle
Georges Hébert (1875-1957) was an officer in the French Navy and the founder of the Méthode Naturelle, a method of physical education.
Georges Hebert was born in 1875 into the family of a bookseller. From childhood, Hebert had access to colonial literature on adventure and travel, which impressed him much and ultimately influenced his career choice. At the age of 18, Hebert joined a naval school.
Inspirations
In the navy, Hebert navigated South and North America's seas and the Antilles until 1903. Hebert's first inspiration were topmen at sailing ships, exceptionally athletic and resistant.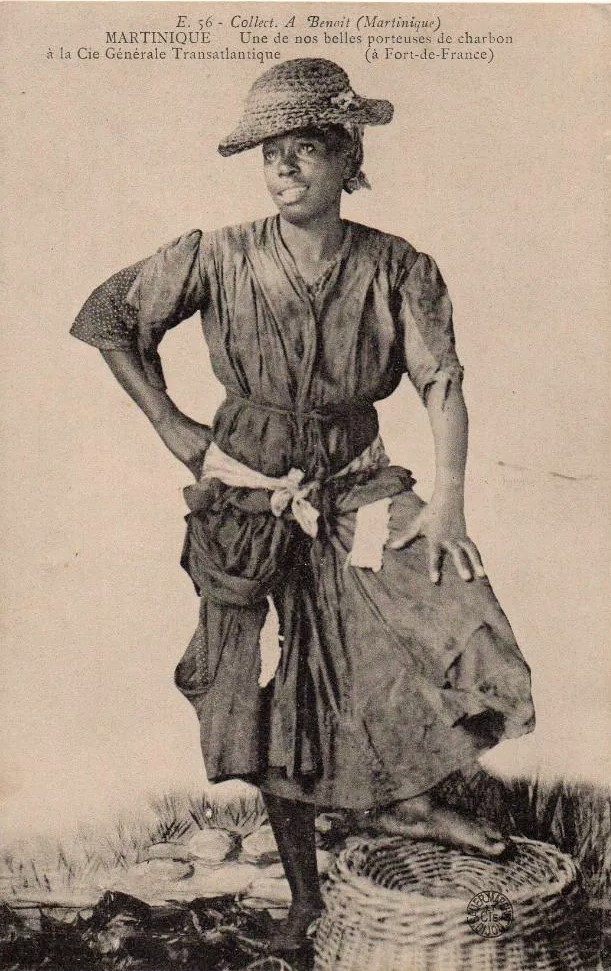 During his journeys, he admires native people as swimmers, divers, runners, and javelin throwers. Strong and elegant female coal bearers in Martinique influenced Hebert's later dedication to the physical education of women.
During his stays in the ports of the USA, Hebert gained insight into the training of sports students at the University of Philadelphia and bodybuilders in modern gyms – Attila's Athletic Studio and School of Physical Culture on Broadway in New York.
Hebert witnessed the Spanish-American War of 1898 and  South American revolutions and rebellions in Cuba, Uruguay, Venezuela and Columbia. Hebert was impressed by the performance, agility, instinct, and elegance of native inhabitants, partisans and guerrillas. Their superiority over troops and athletes trained in European or American ways convince Hebert of the need for reform in physical education.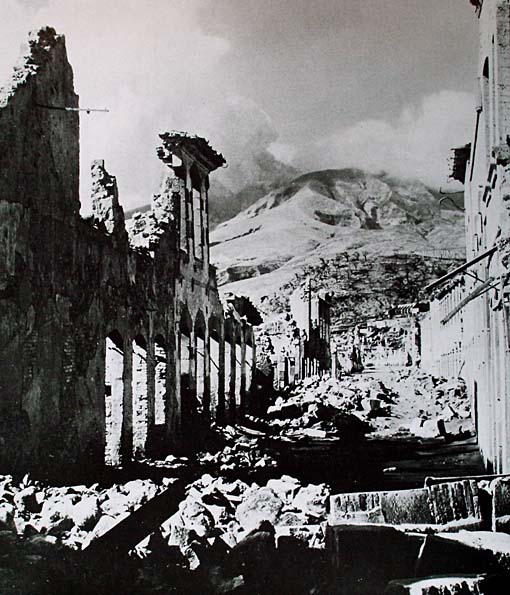 Volcanic eruption and rescue 
In 1902, as Hébert was stationed in the port of the city St. Pierre, island Martinique, the town fell victim to a catastrophic volcanic eruption. Over 30,000 people died within minutes. Onboard of D'Estrées, Hebert and his men were able to rescue 700 people.
This experience profoundly affected Hebert and reinforced his belief that athletes should combine skill with courage and altruism. Hebert eventually developed this ethos into the motto "Être fort pour être utile," or "Be strong to be useful."
Touched by the tragedy and influenced by his earlier impressions, Hebert comes up with idea to reform physical education in the Navy. He asks the Naval Staff to transfer him to the Naval School in Lorient.
Naval school in Lorient and Hebert's reforms
In 1904, upon his return to France, Hebert was entrusted with the physical training of 1000 students in the Naval School of Lorient, which program was still dominated by the old, stiff Prussian drill. Hebert changes the program and adds to it long-distance running,  wrestling, rowing, carrying of the wounded, and rescue of the drowning. From 1906, Hebert publishes every month a few articles about the doctrine of his method and a wide range of exercises in the renowned journal "L'Éducation Physique." He releases his first book, "L'Éducation physique raisonnée" a year later.
Physical test
Hebert's most crucial innovation in Lorient was the athletic test with a rating scale for twelve performances: 100, 500, and 1500 meter run, long and high jump with and without run-up, rope climbing, stone put, weight lifting, 100 swimming, and an underwater dive. The test evaluated the physical skill and training progress of the students and differed fundamentally from the typical physiological assessment of that time that measured body parts and muscles.
Hebert's method in the French Navy
In 1909, Hebert published a brochure entitled "L'Éducation virile et les devoirs physiques de l'officier combattant" (The manly education and physical duties of the combat officer). Hebert's command distributed the manual in all naval units and sent Hebert to ports and squadrons to instruct on-site officers responsible for physical training. The official decision of May 1909 assigned Lieutenant Hebert with the organization of physical education in the French Navy.
Times of Triumph
Methode Naturelle became popular in the years before the First World War.
Hébert presents his method in several public demonstrations: 1909 in the gardens of the Grande Roue in Paris and 1911 in Caen in the president's presence. At the latter, Hebert was awarded the Knight's Cross of the Legion of Honour, and French colonial troops adopt his method. Journalists visit the school in Lorient to report about Methode Naturelle.
Hebert publishes three books, that will be reprinten many times and some translated into other languages, including Spanish and Russian:
1910
Guide pratique d'éducation physique
(Practical guide to physical education)
1911
Le code de la force
(The code of force)
1912 
L'éducation physique ou l'entraînement complet par la méthode naturelle
(Physical education or complete training using the natural method).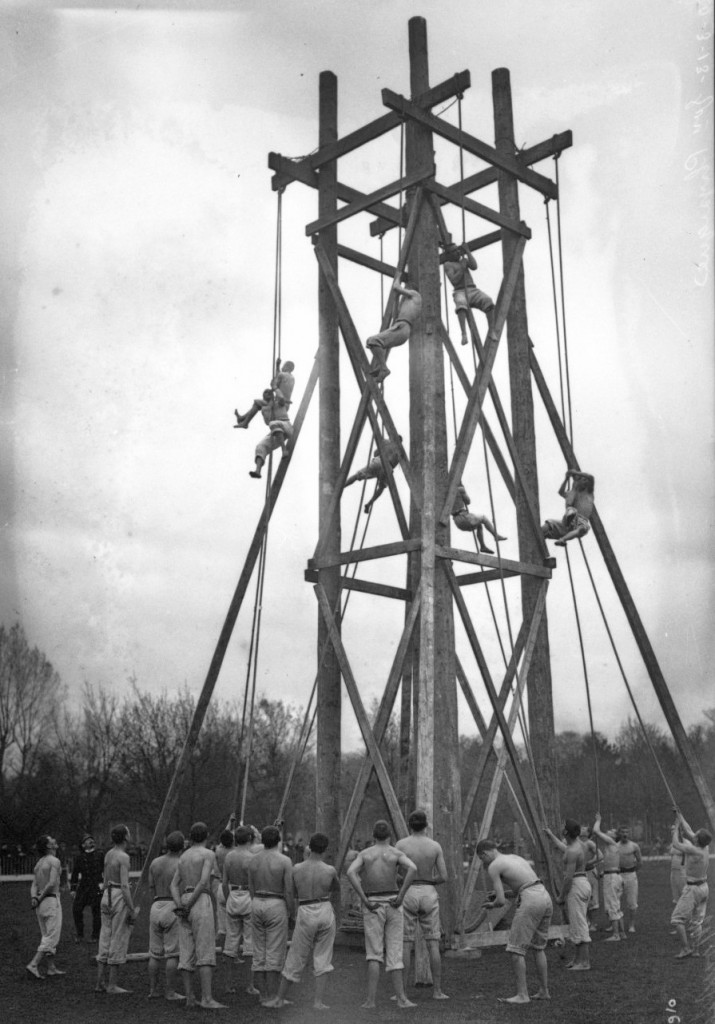 In March 1913, the International Congress of Physical Education in Paris takes place. Hebert represents the French Navy with 350 students from marine schools: 100 children aged 9-14, 150 boys aged 14-17, and 100 recruits aged 17-21. Hebert's performance is full of life and energy. His children climb ropes with their arms only and rub each other with icy water, his men fight and carry each other and enchant the audience with their tanned skin and firm muscles. As they sing La Marseillaise, the audience cheers and calls out Hebert's name, politicians and journalists rush to Hebert and want to talk to him.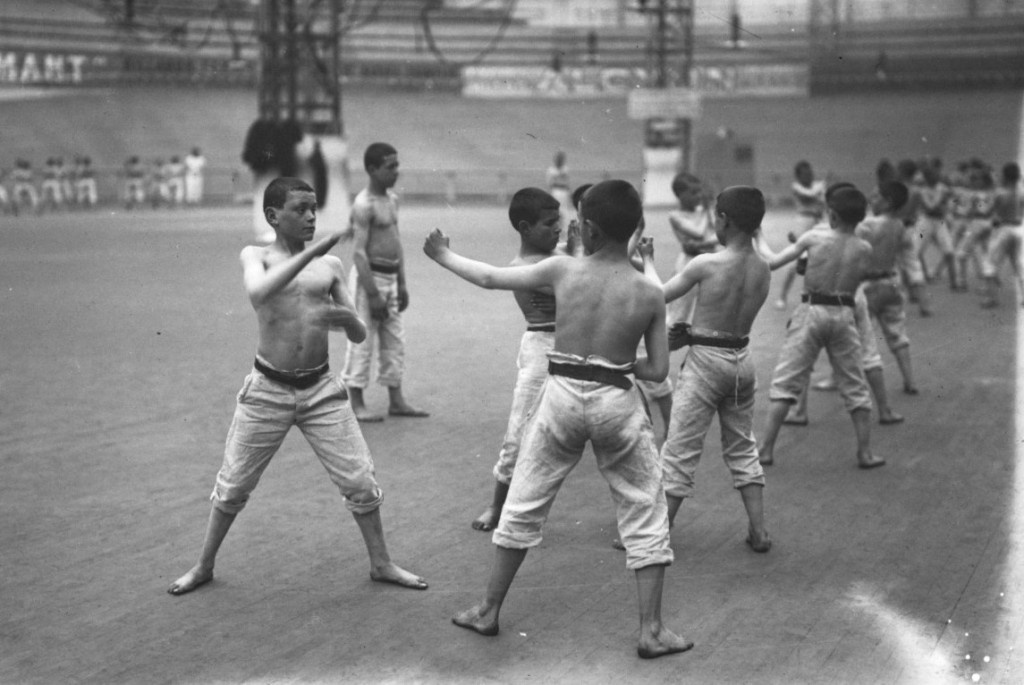 Collège d'athlétes de Reims
During the Stockholm Olympic Games of 1912, 65 medals goes to Sweden, 41 to UK, 25 to Germany, while France gains only 14. A different concept for french physical education was indispensable. In March 1913, a handful of scientists, doctors, artists, and athletes signed a manifesto to found the Collège d'Athlétes de Reims. It had to become a unique facility for the education of sports teachers and training of Olympic athletes. Hebert was invited as the technical director.
Marquise de Polignac, the heir to the Pommery Champagne Empire and a member of the International Olympic Committee, became a sponsor and provided his estate in the Parc Pommery for the College buildings: a stadium, an outdoor swimming pool with a diving tower, and a bright gym, 40 by 20 meters.
As the chief of the College, Hebert trains top athletes. Ahead of his time, the Olympic champion in long-distance running, Jean Bounin, systematically incorporates into his training mobility and strength exercises according to Hebert's natural method: climbing, stone put, log carry.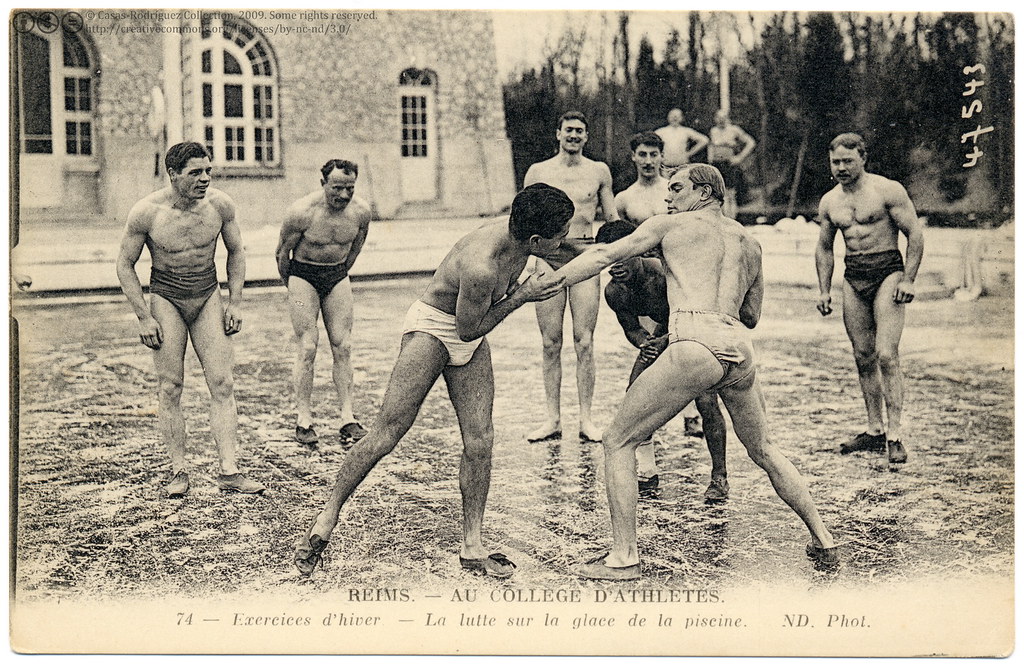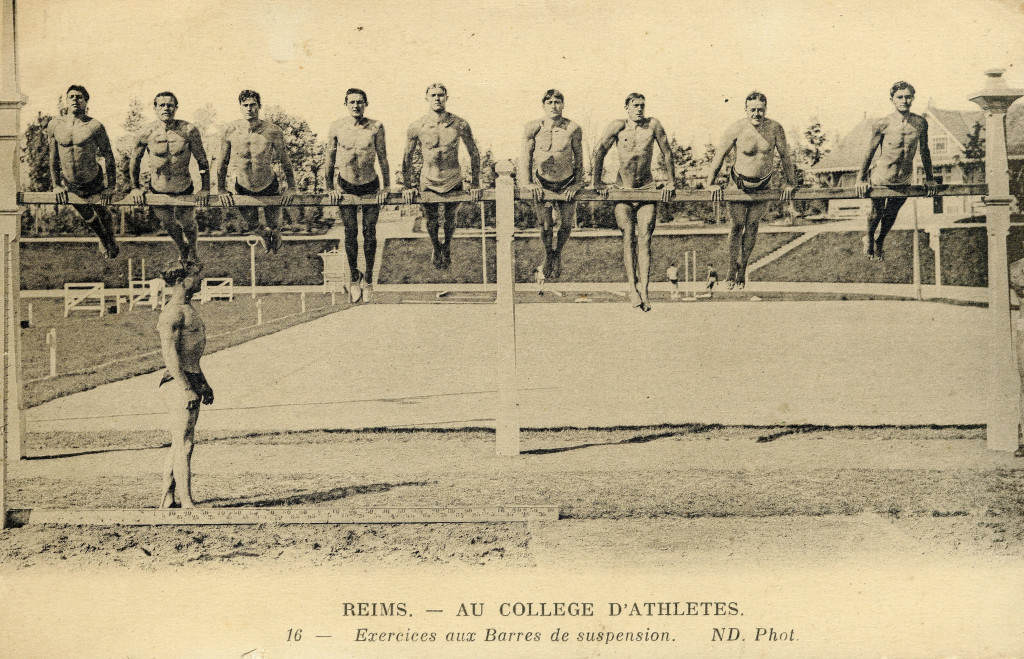 In October 1913, the President of France solemnly inaugurated the College, in the presence of the President of the International Olympic Committee, Pierre de Coubertin. In 1914, Hebert opened a physiological laboratory at the College and invited Georges Demeny, a scientist and physiologist and the leading representative of the French school of physical education, as its director. The College becomes the Mecca of physical education in France.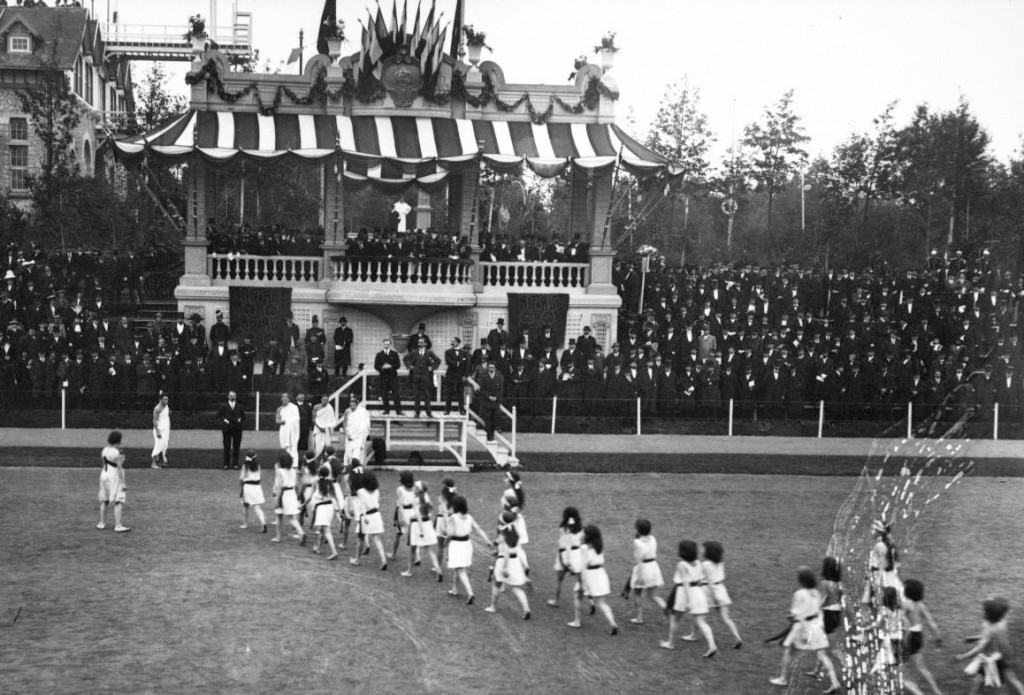 For Hebert, the education of children and sports teachers becomes more important than athlete training. He welcomes groups of girls, boy scouts, and children from a local hospice in the college.
Soon, all schools in Reims introduce Methode Naturelle in the physical education of their 10,000 pupils. Hebert trains over 50 school sports teachers and 15 female teachers for the city of Reims. Children are enthusiastic about the end of the dull gymnastics. Instead of the rigid arm and leg movements, they are allowed to run in the gardens, climb ropes and jump like frogs. Thanks to Hebert, physical education becomes the most popular school lesson. Unfortunately, the World War I interrupted this groundbreaking experiment.
World War I 
As the war had begun, Hebert returned back to the navy. He fought at the head of his company by Dixmude and got seriously wounded in November 1914. After recovery, Hebert was assigned to the sports and rehabilitation training of the 4th Army, all other armies followed. Long vigils and standing in the trenches made soldiers stiff and sluggish. With the help of running and climbing in all-terrain, boxing, and games, Hebert increased the armies' energy and fighting spirit.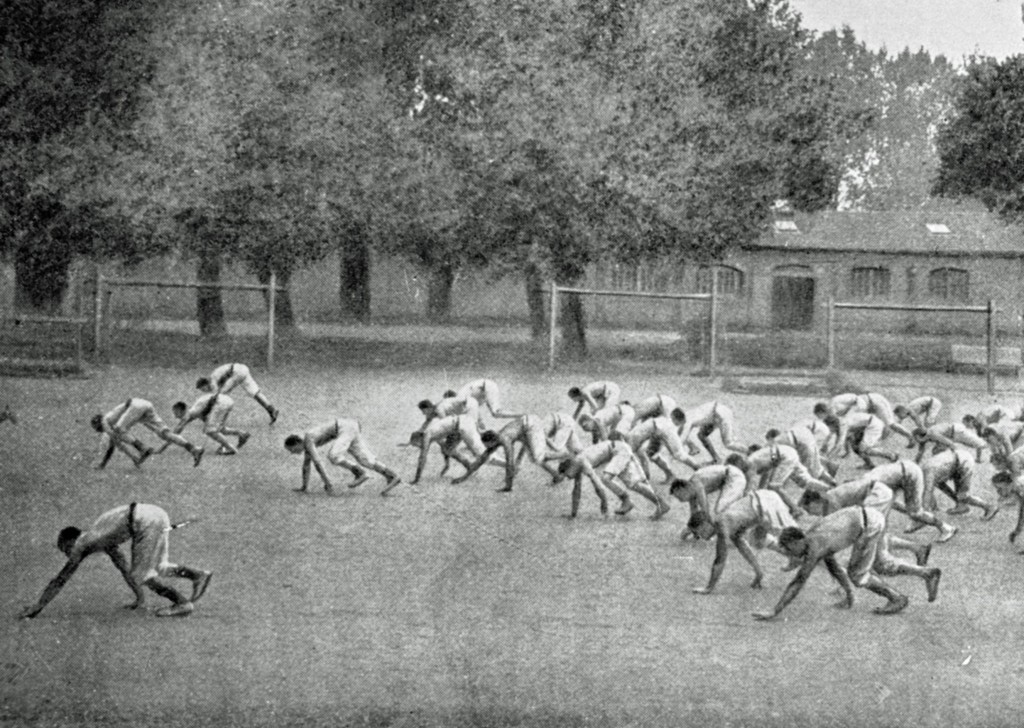 Hébert was the first to introduce quadrupedie into military training. At demonstrations of the natural method in peacetime, crawling and moving on all fours was perceived animalistic and humiliating. During the war, Hebert proved that French soldiers die because of their inability to fall to the ground quickly, hide themselves, or crawl with minimal visibility. Quadurpedie became mandatory in the training of the French army.
Hebert developed the first draft of the obstacle course in the military school of Lorient.  In the beginning, Hebert used as obstacles the structures that went back to the times of Amoros. After several years of experiments, in 1916 Hebert formalized the obstacle course – parcours du combattant, parcours d'obstacle.
After the war, armies worldwide adopted both of Hebert's innovations: quadrupedie and the obstacle course.
Post-war period 
With the end of the war in 1919, Hebert retires as a veteran. Hébert believes he has developed a physical education method for the general public and wants to devote himself to school physical education. He refuses offers from the Minister of War to work for the War Department or to head the military school in Joinville. "Physical education is the task of schools," says Hebert and preaches to keep the army out of schools.
However, from 1920 onwards, the Joinville school officially determines the national program of physical education. The followers of Methode Naturelle will accuse Hebert of having missed his chance to influence both military and school physical education.
Palestra – a gymnastic school for girls and young women
The college in Reims was destroyed in the war, and many of its trainers died on the front line. During the war, college's female teachers, or monitrices, continued to teach in schools and sanatoriums.
1918 the town of Deauville on the Atlantic coast provided monitrices with land near the beachline. Hebert and monitrices establish here  Palestra, a private gymnastic school for girls. The same architect who designed the college in Reims also builds Palestra: a training stadium, a dance stadium, residential cabins, gardens, basketball and tennis courts, and a 250-meter obstacle course. The head of the school is Yvonne Moreau – a student of Demeny, a former monitrice of the College in Reims, and Hebert's future wife.
Palestra's school program lasts from six to twelve weeks and consists of six pillars: physical training, crafts and gardening, moral education, aesthetic culture (dance, music), academic lectures (anatomy, history), and naturopathy. Education based on these six pillars will be later called Hebertism.
Th lessons are held open air. Children under 12 wear shorts and sandals, young ladies wear light sleeveless tunics. The classes include breathing exercises, sunbathing, swimming in the sea, rowing, games, and singing.
In Palestra, Hebert dedicates himself to the training of monitrices.  Palestra becomes the only institution in France to train young women as gymnastics teachers.
In 1919 Hebert publishes a book to which Yvonne Moreau contributed: "L'Éducation physique féminine. Muscle et Beauté plastique," or "The female physical education. Muscle and plastic beauty." Antic sculptures and indigenous women inspire the book's ideals. Its ideas are revolutionary for western countries, where women still wore corsets.
In 1923 Hebert and his wife open a palestra in Paris and a winter palestra on the Mediterranean in La Londe-les-Maures. Palestra becomes popular.  Its students come from the USA, Norway, Italy, etc. The Spanish King Alfonso XIII visits Palestra. Encyclopedia Larousse ménager. Dictionnaire illustré de la vie domestique, or the Illustrated Dictionary of Domestic Life of 1936, dedicates at the entry "Gymnastics" more than a full page to Palestra and Methode Naturelle, making it the only method for physical education presented in detail.
In 1929, the couple opens the world's first women's sailing school on board of a three-master Alcyon in Deauville's port. The ship can accommodate up to 20 girls on board and sails the English Channel, the Atlantic Ocean, and the Mediterranean.
Journal "L'Éducation Physique" und Hebertism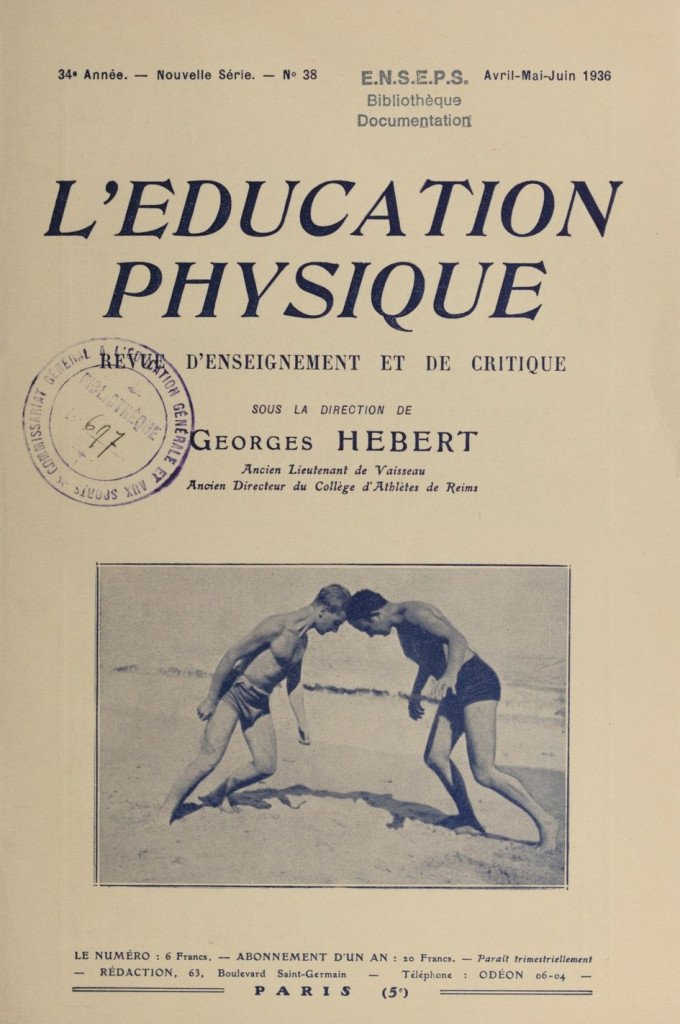 The journal L'Éducation Physique, discontinued during the war, experiences a rebirth in 1922 thanks to Hebert. Hebert runs the journal for 30 years until his death, writing a foreword or an article for each issue, among them on helio-, aero- and hydrotherapy and nutrition.

The journal spreads MN and testifies its history. Educators and school teachers, doctors and researchers, athletes, journalists, and artists publish their articles.
The development of Methode Naturelle has become a collaborative effort of many personalities. Dr. Paul Carton defined the medical and naturopathic principles of MN. The term Hebertism, proposed by a journalist in 1913, is also used instead of MN.
Contrary to the widespread belief that his approach was exclusively based on his observations of the natural movements of indigenous people, his method is a synthesis of various influences like classical representations of the human body in Graeco-Roman statuary and works of his predecessor Francisco Amorós, who published in 1847 "Nouveau Manuel Complet d'Education Physique, Gymnastique et Morale" – A Guide to Physical, Gymnastic, and Moral Education. and which encompasses already the full range of practical movement aptitudes. Hébert also recognizes the method of Demeny. 1 The core of the natural method, ten movement families – walking, running, jumping, climbing, lifting, throwing, quadrupedal movement, balancing, swimming and self-defence – were first presented in 1532 by François Rabelais and adopted by Hébert without adding or removing anything.
 What Georges Hébert did new, is to invent and describe systematically a method how to apply, combine and mix those disciplines to achieve – quickly and efficient – full physical development. He invented, as he claims himself, "a better way to train".
Spread of MN in 1920 – 1940
Hebert advocates the introduction of his method in schools and encounters resistance, especially from the state. In 1923, the French State referred to MN in "Règlement général d'Éducation physique" but introduced just a watered-down version in public schools.
Meanwhile, institutions are actively interested in applying Hebert's method, particularly those familiar with altruism, cooperation, and physical education of the masses:
Firefighters training by MN

Fire brigade. The Parisian fire brigade adopted MN as its training method as early as 1913. In 1933 Commander Stefani becomes a close associate of Hebert.

Paris police
Scouts
Companies: railway and electrification companies, Michelin factories, building schools
Universities and private schools like École des Roches.
Rehabilitation Centres: facility for the blind and deaf in Bourg-la-Reine, Anti-Polio Centre in Rennes, centers for rehabilitating war wounded and disabled people in Chateau des Roches. Children suspected of having tuberculosis are given physical exercise in hospitals.
Theatre. When Jacques Copeau opened his theatre school in Paris in 1920, he ordered systematic training in Methode Naturelle for actors to improve their body balance, agility, and breath. In the 1930s, Leon Chancerel used MN in his youth theatres to educate children physically and entertainingly stimulate their imagination.
In 1930, there existed 250 free Hebertism centers, half of them in France, the other half worldwide: in Argentina, Cuba, Portugal, Switzerland, Brazil, Belgium, etc. The centers are independent of each other and any other organization. Many centers remained unknown because their establishment was autonomous.
Hebert emphasized that MN did not belong to anyone, and a group of friends is free to found a center. They would need neither the money nor a permit, but only a local park with stones and trees. It was crucial for Hebert that the lessons are open to everyone, regardless of their origin or religion.
For Hebert, the spirit of MN lies in the free groups because an association carries a danger of totalitarianism. In 1933, when MN supporters founded an organization 'Groupement Hébertiste,' Hebert advised them technically but refused to participate in its foundation. In 1942, Hebert declined the offer to become the chairman of freshly founded Fédération Française d'Éducation Physique (FFEP).
During the Second World War, MN was taken by Vichy Government as the basis of national doctrine for general education activities, Hébert was never consulted by the authorities.
The number of centers went drastically down during the Second World War.  As 1942 the French Federation of Physical Education was founded, Hébert refused honorary presidency, as he was 'always been against federalism and state subsidies', because a federation always had the possibility of a fusion of the centers into a unified and totalitarian power capable of being infused as an object of state power.
1955 the 50th anniversary of MN was celebrated at the Arènes de Lutèce in Paris under aegis of the President of the Republic, with demonstration by diverse military schools, the Paris Fire Brigade, the police, the Scouts de France, the elite National School for Girls' Physical Education, and others. Hébert was named Commander of the  Legion of Honor by the French government in recognition of his many services to his country.
In 1957, George Hébert, by then suffering from general paralysis, cultivated the admiration of his courage by relearning how to walk, speak and write. He died on the same year.
Worldwide
Following the Internation Congress of Physical Education held in Paris 1913, the influence of Héberts teachings reached physical institutes in Czechoslovakia, Denmark, Argentina, Brazil, USSR, CUba, Poland, Bolivia, Vietnam, Lebanon, Jordan and others.
The adoption of Hébertism in Belgium was quite late compared to other European countries, but progressed more rapidly and comprehensively than elsewhere.
From 1920, Hébertism was introduced and popularized in Belgians schools and universities, thanks to Hainaut's standard Physical education course, under the direction of George Dejean and support of a gymnastic professor Gaston Etienne.   From 1926 to 1933, 22 centers were institutionalized, all of which operated for free. Propaganda of women's physical education through MN in Belgium is exemplary. MN spread in the military as well as in schools, girls schools, labor movement, and 1934 it has merged with the scouts.

During the Second World War Méthode Naturelle continued to spread in the Belgian Army, in the imprisoned officers camp in Germany thank to two of it's biggest supporters, lieutenant colonel Camille Tasse and sub lieutenant of the reserve Marcel Beugnier.  The latter had learned MN prior to the war from Etienne, and was familiar with the course of Dejean. During the imprisonment Beugnier learns Hébertism further from the books he could gain from Red Cross and creates a group CHA (centre Hebert d'Allemagne). After the war, he went to France to follow the lessons directly from Hébert.
1948 Beugnier founded the FBEPMN –  Belgian Federation of Physical Education by the Natural Method, a gathering of scouts and former war prisoners. The organization  was officially recognized by the Ministry of Public Health 1953.
Meanwhile Tasse was appointed as director of the Military Institute of Physical Education. In front of the enterprises of the Hebertists in Belgium, Commander Stefani, the right-hand man of Georges Hébert, wrote: "When will we see in France the same serious work as in the Belgian army? "
This year 1951 Georges Hébert is invited to Belgium by FBEPMN, where he meets  the Commissariat for Health and Physical Education of the Belgian Scouts, the Military Institute of Physical Education (responsible for the training of officer instructors) and the elite Regiment Commando.
In the course of his visits, Georges Hébert is struck by the exact understanding of his doctrine and by the pedagogical and technological mastery with which it is applied. Although being against any federation and state subsidy, Hébert officially recognizes the Belgian Federation as the reservoir of doctrine and hebertist practices.

The history of MN in Italy begins with Jean Hendrickx, commissioner of the Belgian See Scouts, who during his two-year stay as a professional trainee as an architect in Italy,  organized among the Scouts of Lombardy Hébertism sessions. 1952, the first "Camp Georges-Hébert" took place at the Lake Como. The centers in Mailand, Vicenza Turin and Rom are established. Since 1970, every summer AGESCI (the main scout association in Italy) have been holding Hebertism camp for boys and girls scout throughout the entire nation.
Fitness trails might be the application of MN that is most familiar to the wide mass all over the world. The first fitness trail, also known as Vita Parcours, was built 1968 in Zürich, Switzerland, and supported by Swiss life insurance firm Vita. Hunderds of trails all over Europe followed within a few years.
Decay
The influence of Hebertism started to fade in 1950-60es, after the wars of Indochina and Algeria, that followed by a period of relative peace. The military training underwent reform, physical education now followed a new goal – to prepare young athletes for the Olympic Games.
The civilian world has changed, and was interested in new physical activities, outdoor sports, yoga etc. The only way MN was present  in the broad sports were fitness trails, also known in some countries as Vita Parcours, that were built all over the world since 1968,  based on the principles of MN.
At the second half of the 20th century Méthode Naturelle continues to live unknowingly in the scout movement, firefighter training and fitness trails.
In the early 2000's there were only a few Heberstism Communities left in Belgium and France. From all the Hébertism centers two in France were still active – Centre Hébertiste Nantais and Le Centre Hébertiste de La Brède, founded 1943 by Raymond Baumard and 1950 by Pierre Barron, respectively.
The Belgian Federation that was founded 1948 by Marcel Beugnier, was active through all the years too. It shortened its name  to the Belgian Federation of Hébertisme (FBH) 2004. Today the federation operates under the name Sport'nat® and counts around 300 members.
(These three enthusiastic men who passed the method further, the  "passeurs de l'hebertisme " – Baumard, Barron, Beugnier, were called by Regis Hébert, the son of Georges Hébert as "three B", or "BBB".)
Modern comeback
2001, during the French army's involvement in Afghanistan, it became clear that sport had failed to successfully train soldiers for rugged terrain. NM was dug up and used to prepare experts in Military and Sports Training and Physical Education.
But this is the civilian world the name "Méthode Naturelle" is mostly  being heard – in context with Parkour. At the beginning of the new century David Belle and his friends made the teachings of Georges Hébert famous to many traceures all over the world – as the origin of Parkour.
Modern civil obstacle runs such as Tough Mudder, Spartan Race, Tough Guy Race & Co as well as military training all over the world take place on obstacle courses and parcours, which were first introduced and designed by Hébert.
Hebert's parcours — which included balance beams, walls, ladders, ropes and more — were designed not only to test a participant's whole fitness, but to challenge and build their confidence, courage, willpower, resolution, and mental toughness.
Half a century later, in 1950es, the training of shock troops and commandos, and the obstacle course, are very little different from the first courses developed by Hébert.
Due to the actual trend of 'outdoor fitness' the public's attention to Méthode Naturelle is rising again.
Canada 
Father Raoul Cloutier and Georges Gauvreau  both were officers in the Canadian army and fought in World War II. Being stationed in France, they became familiar with French physical education and hebertisme. Gauvreau even remained in France after the war to study the method of Hebert.
In 1949 the two founded Camp-Ecole Trois-Saumons and introduced the first "piste hebertiste" in North America.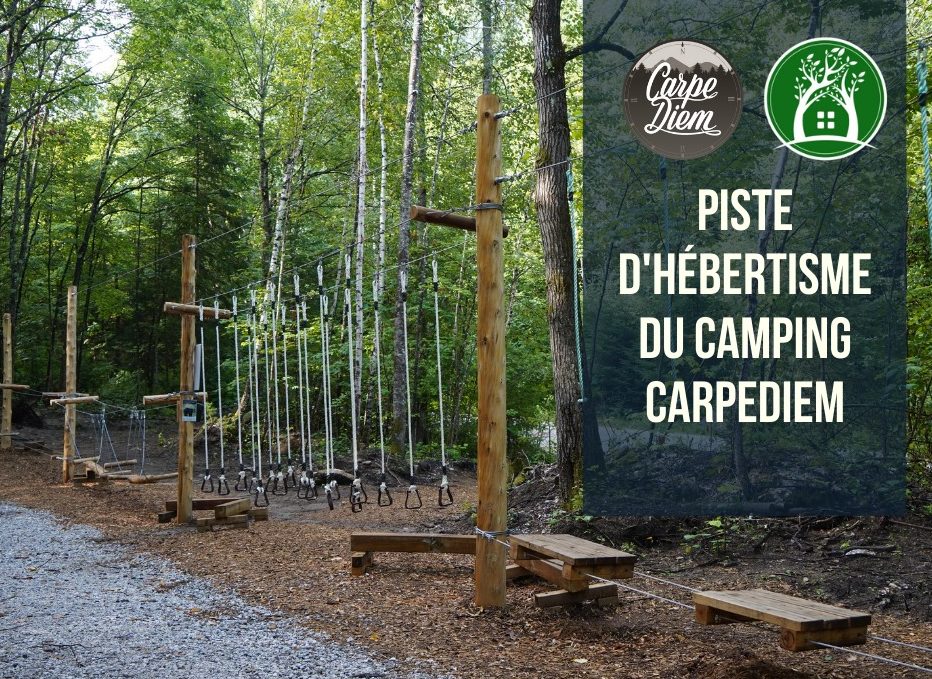 In the later years, this concept found various applications in adventure parks, fitness trails and rope courses. In modern Canada rope parks and fitness trails are still called "piste d'hébertism" or "parcours d'hébertism".
Bibliography:
Cousneau, Claude. Hebertisme (1976). Ontario Ministry of Culture and Recreation, Toronto.
Renson, Roland. La diffusion de la Méthode naturelle en Belgique (2014). Le Collège d'athlètes de Reims. ÉPURE.

Philippe-Meden, Pierre. Georges Hébert (1875-1957). A naturalist's invention of body ecology. Body ecology and emersive leisure. Routledge, 2018
Philippe-Meden, Pierre. Vers une histoire du pouvoir hébertiste en Europe (1913-1940).  Deuxième partie : le rayonnement de l'hébertisme en Belgique (2016). Sport'nat® Belgique.
Philippe-Meden, Pierre. Des Groupements libres aux Centres hébertistes (2016). Sport'nat® Belgique.

History of MN in Belgium and Italy. Personal discussion with Christian Beugnier and Pierre Philippe-Meden on Facebook.
1. Hébert, Georges: L'Éducation physique virile et morale par la méthode naturelle, Band I, 6. Auflage, Paris 1936, S. XIX
↩